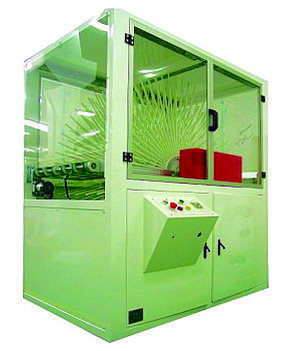 ‧Function
-This equipment suits to use after dry or moist module processes for corresponding to the requests of inspection and dispersing heat.
‧Main characters
-ø8 glass fiber bar using for supporter to correspond to the requests of rigidity and verticality
-European standard covering style design in whole machine and no particle interference
‧Boards size
Maximum:610 x 610 mm ( 24 x 24" )
Minimum:305 x 305 mm ( 12 x 12" )
Thickness:0.05〜3.2 mm
‧Machine size
Length:1740 mm
Width:1000 mm
Height:1850 mm
‧Maximum producing abilities
8 pics/ moment
‧Working height
1050±30 mm
‧Factory affair requests
220V /60Hz/500W 3ø 6kg/㎝² 50L/min
‧Operating mold and system
-PLC:MITSUBISHI FX system. Staying online contact
-Simple switch and button for operating
Huang Shin Hsing Co. Ltd.
23942 No.39, 174 Lane, Chien Shan Rd., Yingge Town, Taoyuan County 
TEL:02-26790564、26794744 FAX:02-26791065 E-mail:service@hssoil.com
 © 2009. HS HUANG . An idea by PippaDesign.com